PG2A Advertiser's Guide
The latest edition of the Pilot's Guide to Avionics debutes in late at EAA AirVenture in Oshkosh, Wis., and thousands of pilots and other attendees make it a point to pick up their own copy of this annual publication.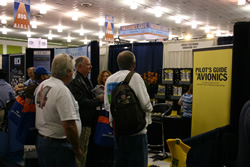 This comprehensive guide features various articles aimed at helping pilots make better avionics buying decisions. The colorful, spiral-bound guide also includes a directory of all AEA members, including certified avionics/instrument facilities, manufacturers and more.
After AirVenture, the AEA distributes thousands of guides throughout the year at all of the major trade shows, including the NBAA Annual Meeting & Convention, the AOPA Aviation Summit, WAI Confernce, AEA International Convention & Trade Show, every AEA member company, and hundreds of pilot requests.
The advertisers benefit from the year-round exposure of this year's guide.
If your customers are pilots or aircraft owners of sport aviation, general aviation or business aviation aircraft, the Pilot's Guide to Avionics is your can't-miss advertising opportunity.
Don't miss out on this unique marketing opportunity!
One Low Price * One Full Year
Thousands of Potential Customers!
For more information about advertising in the guide, contact:
Lauren McFarland
laurenm@aea.net
Phone: 816-347-8400
Fax: 816-347-8405
Deadline for ad space reservations is May 12, 2015!


PG2A Advertising Contact
Lauren McFarland,
Director of Advertising
Email: laurenm@aea.net
Phone: 816-347-8400